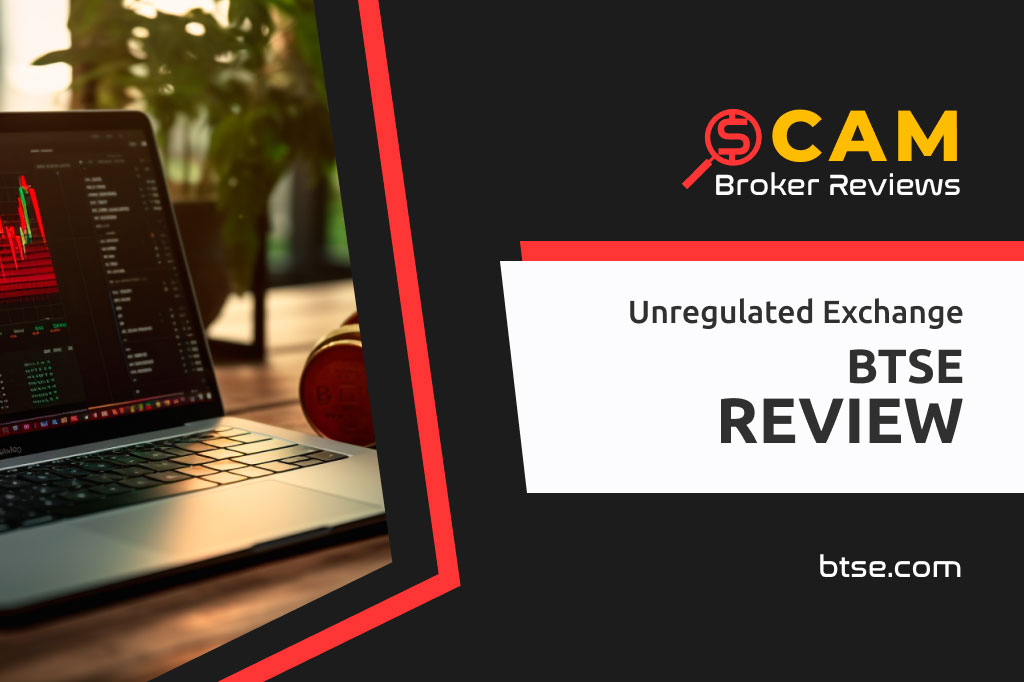 BTSE Review: This Exchange Has Been Active For A While
BTSE (Bitcoin Trading and Securities Exchange) is a cryptocurrency trading platform that offers a range of services related to digital assets and derivatives trading. It offers users the possibility to trade various cryptocurrencies and engage in futures contracts trading, and NFTs.
BTSE crypto exchange has been active since 2002 but this platform is still not regulated. How big of a deal is this? Find out in our accurate BTSE Review.
Regulated by:

Unregulated Crypto Exchange

Is This Company Safe?

No

Known Websites:

btse.com

 

Have Warnings from:

OSC

Registered in:

Lithuania, British Virgin Islands

Operating since:

2018

Trading Platforms:

Mobile

Maximum Leverage:

1:100

Minimum Deposit:

1 USD

Deposit Bonus:

N/A

Trading Assets:

Cryptocurrencies, NFTs, futures

Free Demo Account:

Not Available

How to  Withdraw from This Company?

Since this company is unlikely to return your money – contact your bank, Financial Regulator, or simply Reach out to us for professional assistance in recovering your funds.
Legal Info: Is BTSE Legit or a Scam?
BTSE listed two offices/entities in the legal documentation –  BTSE UAB (Lithuania) and BTSE Holding Limited (British Virgin Islands). The latter is an offshore jurisdiction, which is the first red flag we noticed. Nevertheless, neither entity is regulated, per the lb.lt and bvifsc.vg. 
So BTSE is an unregulated crypto exchange, which is the main argument against this company that we have. You should avoid trading on unregulated platforms because in most cases, these platforms turn out to be scams. Take iTradeFX for instance. 
To make matters worse, there is a warning against the BTSE trading exchange. This warning was issued on May 19, 2023, by the Ontario Securities Commission (OSC), meaning that Canada is off-limits to BTSE.      
Who Are BTSE's Victims?
According to godaddy.com/whois, the btse com website domain was created on March 29, 2002, which was a long time ago. Crypto didn't exist back then, but this website apparently did. Nevertheless, BTSE was actually founded in 2018. Since then, BTSE has been offering unregulated services mainly to traders residing in the following countries:
United States;

India;

Vietnam;

Indonesia;

Singapore.
On the list, we have two major global financial hubs – the US and Singapore. These two jurisdictions boast pretty heavy regulations. A company cannot legally provide services in these two countries without the necessary license, which BTSE does not have. 
If you lost money to the BTSE scam, we can help you recover your hard-earned money. 
Trader Reviews
We checked popular forums to see what traders think about BTSE. The websites we used were trustpilot.com and tradersunion.com. Unsurprisingly, there are several complaints and negative reviews against BTSE. These traders claim that they are victims of a crypto scam.
Please heed these warnings and think twice before investing in an unregulated offshore exchange such as BTSE.
BTSE is a strange place for futures trading. I lost half of the deposit by paying a commission for 3 days' leverage. Extremely low liquidity. Do not recommend it unless it has unique pairs and you know what you doing.

Trustpilot user, November 13, 2022.
… scam exchange

have problems with withdrawals some coins…

Trustpilot user, December 3, 2022.
BTSE is an inadequate broker, which works through fraud. For 7 months I was convinced that they are scammers and work dishonestly. Support is terrible. You can wait for an answer to your question for a very long time, but never get it. Trading is simply not possible here.

TradersUnion user, June 30, 2023.
Trading Features
BTSE offers a trading platform that allows users to access various cryptocurrency trading features. There are two options available to traders:
Web platform – BTSE's web-based trading terminal provides users with access to spot trading, futures trading, NFT trading, and other features. Traders can access the platform using a web browser on their desktop or laptop. Here, it's important to mention that the platform is pretty unpolished and lacks advanced tools.

Mobile app – The BTSE app offers a mobile trading option for both Android and iOS mobile devices. This mobile app allows users to trade cryptocurrencies, manage their accounts, and execute trades on the go, providing flexibility and convenience. A mobile app is always useful but also risky if the company is unlicensed. 
Leverage, Commissions, Spreads, Fees and Taxes
BTSE offers leverage for trading futures contracts, and it charges commissions based on a maker-taker fee model. The maximum leverage is extremely high – 1:100. However, it's important to note that while leverage can magnify potential profits, it also increases the potential for losses.
As for the commissions, i.e. maker-taker fees, BTSE charges trading commissions based on a maker-taker fee model, which is common for crypto trading. According to the information provided on the website, the commission rates for BTSE are as follows:
Maker fee: 0.02% – 0.10%;

Taker fee: 0.04% – 0.12%.
Available Trading Assets
BTSE offers a range of trading assets for its users – cryptocurrencies, futures contracts, and potentially other financial instruments. Here is an overview of the BTSE coin selection:
Crypto:

BTC;

ETH;

XPR;

ADA;

LTC; etc.
Futures contracts on crypto tokens;

NFTs – ownership of unique digital or physical items that have gained popularity in the art, collectibles, and gaming industries.
Please note that the crypto market is extremely volatile. Thus, it's pretty risky to trade such volatile assets on an unregulated exchange with sky-high leverage. Find a regulated and reliable exchange instead.
Call us if you need help getting your funds back.
BTSE Withdrawal Process
BTSE offers several deposit and withdrawal methods for users to fund and manage their accounts. Here are the available deposit and withdrawal methods on the BTSE platform:
Deposit methods:
SWIFT transfers;

Local bank transfers;

SEPA (Single Euro Payments Area) transfers;

Credit/debit cards; 

IFSC and IMPS (Payment methods for Indian Rupee deposits);

Crypto.
Withdrawal methods:
SWIFT transfers; 

Local bank transfers; 

SEPA transfers;

IFSC and IMPS.
Withdrawal fees are 0.0005 BTC, 0.0005 ETH, 0.001 LTC, and 1 USDT. Banks charge deposit & withdrawal fees that may amount to 20 USD to 80 USD per payment. There are no deposit fees.
Customer Support
BTSE offers customer support services to assist users with their inquiries, issues, and account-related matters. BTSE provided customer support channels, i.e. email, web forms, and social media.
You can contact BTSE's customer support team via email at the provided email address. Email support is supposed to be available for you to describe your query or concern in detail and receive assistance from the support team.
As for social media, BTSE is active on various social media platforms, including Twitter, Facebook, YouTube, and LinkedIn, per the BTSE signup page. You may be able to connect with BTSE and seek support or information through these social media channels.
Key Information To Consider About BTSE 
To recap, BTSE is a Lithuanian-BVI-based crypto exchange, offering crypto, futures, and NFT trading services. This exchange has been active for a few years now, mainly targeting traders from the US, Vietnam, Indonesia, India, and Singapore.
We don't recommend you trade on this exchange because it's unregulated. Also, many traders expressed their frustrations with BTSE and its scheme and the Canadian OSC regulator flagged this exchange as illicit. If you believe that you've been scammed by BTSE, book a free consultation with us and we'll explain how you can get your money back.
Book your free consultation today and find out what the next step is.
FAQ Section
What is BTSE?
BTSE is a crypto exchange with headquarters in Lithuania and the British Virgin Islands, making this an offshore-based platform.
Is BTSE regulated?
BTSE is unregulated, meaning the exchange operates illegally. If you are a victim of this scam, call us as soon as possible.
How much does BTSE charge to deposit money?
BTSE claims that there are no deposit fees. There are withdrawal fees though, varying for each payment method.
Who is the founder of BTSE?
The founders of BTSE are Jonathan Leong and Brian Wong. The current chief executive officer of the company is Henry Liu.